7 Great Moments In Cat Memes
Dogs might seem like the most popular pets in America with all the attention they get in the media ("Dog welcomes home soldier"), the movies (Uggie) and from our wallets (billions of dollars). But the cat population in the U.S. outnumbers dogs by more than 10 million -- and that balance is especially evident in one place: the internet.
The Globe and Mail
observed that a Google search of the ubiquitous phrase "lolcat" yields 5 million results while a canine counterpart, "loldog," clearly never took off -- returning just 69,300 items.
But our visual obsession with felines didn't begin with the world wide web -- the internet simply became a vehicle to create and gather these images and then transport them into our lives.
Here's the look back at how it all began:

7 GREAT MOMENTS IN CAT MEMES
1906: Life magazine dubs Harry Whittier Frees the "most famed U.S. photographer of dressed-up animals."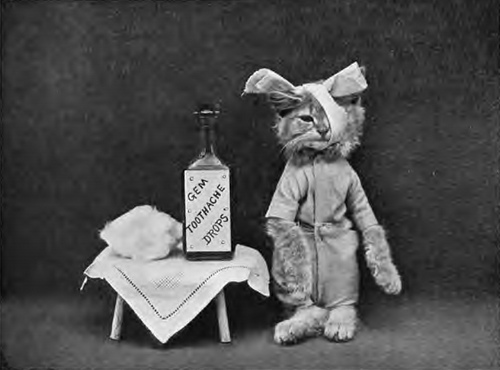 1929: Parents magazine publishes an ad for "a genuine photograph" of the Laughing Cat: Every mother will want one for the nursery, it says. And she could, for $1.
1973: Under pressure to resign, Richard Nixon's vice-president, Spiro Agnew, is presented by supporters with a popular inspirational poster of a kitten dangling from a branch. It reads "Hang in there, baby."
1984: Artist Charlie Schmidt makes a keyboard-playing hand puppet out of his cat Fatso and videotapes it. Fatso dies in 1987, 20 years before he becomes a YouTube superstar.
2006: The anything-goes imageboard 4chan creates, and falls in love with, lolcats.