Carrie Ann Inaba: How To Help Shelter Pets Without Adopting
Carrie Ann Inaba may be best known as a judge on Dancing With the Stars, but she's doing everything in her power to make her other passion -- animal rescue -- just as popular. The lifelong animal lover has created a new web show called
Crib Cat,
the episodes of which feature a new adoptable shelter cat who needs a home.
Carrie practices what she preaches, calling herself mom to six cats and two dogs. Why the feline majority? "I've had cats my whole adult life. I just relate a little more to their personalities," Carrie told us. "They have a sense of mystery and independence that I respect and admire. Cats also do things on their own terms and I can appreciate that. Cats also suited my busy lifestyle as I worked my way through my career. I think most of my friends would agree that I was a cat in another life."
While Carrie has been able to personally provide a home for many pets in need, not everyone can do so -- but that doesn't mean there aren't ways to help! "There are many things people can do to help the animals," Carrie explains. "You can go to shelters - city shelters, no kill shelters any shelters and give those animals some love. Just spend some quality time with them . . . pet them, tell them they are not alone. Give them warmth and love. Many cats who aren't eating at shelters will eat after they have been pet. So this affection gives them a lot more than just a moment of affection. It will help them to have the will to survive long enough for someone to adopt them.
What else can you do?
"If you have a little extra cash -- (and a little bit helps a lot) you can donate to a reputable rescue organization," says Carrie. "Sometimes it is nice to go and visit the shelter so you can see how they operate. Not all rescue organizations are legit. The ones we feature (on Crib Cat) are. If you are touched by a specific animal, you can earmark the donation for them. Special needs cats often have large medical bills. If you help with these costs, the rescue organization can continue to care of the animals and help them get adopted.
Also, you can provide transport for animals. At high kill shelters, rescue organizations raise pledges for some animals and then provide transport to the rescue or boarding facility, or to their CRIB or forever home.
You can also foster. This helps the animal get socialized and provides important information about the animal. In any way that you can help, it's important to help these creatures who have no voices. I suggest you find a local shelter that you like and get involved. It's so worth it. Your heart will be full every night knowing you are doing something to help."
Crib Cat premieres on March 26th. Check back on WebVet for more of our talk with Carrie!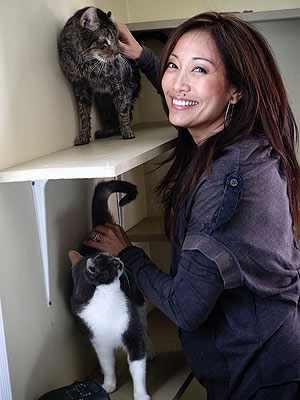 Photo courtesy of Weintraub Photography and People