3 Dogs To Watch At Westminster
There's a lot to look out for at the Westminster Dog Show this year. First there are the
six new breeds
entering the competition for the first time: Mexico's hairless Xoloitzcuintli, the Finnish Lapphund, the Norwegian Lundehund, the Cesky Terrier, the American English Coonhound and the Entlebucher Mountain Dog.
Even though these dogs have been receiving massive attention since their inclusion was announced last month, it's unlikely any of them will be standing on the final podium. "The shortest time between a breed competing at Westminster and winning best of show is 27 years," said co-host David Frei. "That was the Bichon Frise. It had its first year in 1974 and won best in show in 2001."
If you're looking for the favorites of 2012, keep your eyes focused on recent champions
Eira, a four-year-old wire fox terrier
, and London, the
standard poodle
who recently took top honors at the Eukanuba World Challenge.
Eira, formally known as Ch. Steele Your Heart, was the top dog at 2011's National Dog Show, which famously airs on Thanksgiving Day. Eira had already racked up 16 previous Best in Show titles before her victory last November and stands to make history if she wins Westminster, by becoming just the third dog ever to win both titles in the same season.
Although London has the most recent victory to his credit, he must face a more difficult road that Eira if he wants the big W this time around. His biggest rival is a fellow standard poodle named Ally, who he must first best in the nonsporting group before moving on to the Best in Show competition. Ally, who won best in breed at last year's Westminster show, was absent from the Eukanuba competition, giving London a smoother ride to the championship.
If you want to keep an eye on this rivalry, it should be easy to tell the two apart: Ally is white, and London is black. Another coup if London pulls off the win? A black Standard Poodle has never won Best in Show before.
Eira
: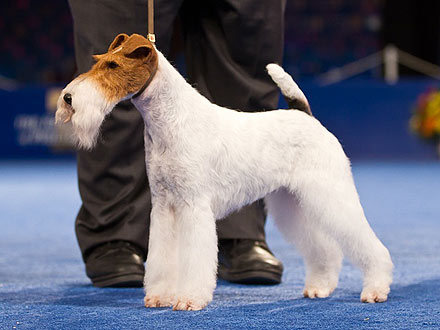 Photo credit: People.com
London:
Photo credit
Ally
:
Photo credit