Do You Want An Affectionate Dog? Read This
Since dogs are immune to his wit, charm and good looks, George Clooney feared it would be more difficult to win over his new pup than the women of America.
The actor told Esquire magazine that he first came across his new dog Einstein, a rescued "part cocker spaniel or something," on the internet, and promptly called the shelter. They told him that it'd be up to the dog to decide if there was a connection with Clooney.
"I start to panic that Einstein is not going to like me," Clooney told Esquire. "So I run into the kitchen, where I have these turkey meatballs, and I rub them all over my shoes . . . Who knew Einstein was such a food whore on top of everything? He throws himself at my feet."
The two are living happily ever after, "and forever, now, he just thinks of me as the guy with the meatball feet. He loves me. I can do no wrong. He follows me everywhere."
What Other Dogs Are Affectionate?
It's no surprise that Einstein warmed right up to Clooney (meatball shoes aside) as
cocker spaniels
are one of the most affectionate dog breeds out there. They are smart, friendly, energetic, gentle, work-oriented, affectionate, eager to please. If you're going to adopt one of these pups, make sure you have ample time to spend with it, as the breed needs significant human interaction.
Labrador Retriever
: In addition to being the most popular breed in the country, the lab is also one of the most affectionate. The breed is extremely loyal and loving, and needs to feel like part of the human family.
Beagle
: If you ever feel the urge to snuggle up with one of Snoopy's family members, the feeling is probably mutual. That's because beagles are gentle, sweet, lively, curious, sociable, brave, smart, calm and of course, affectionate, little dogs.
Bichon Frise
: It seems like these fluffy white fur balls always have a smile on their faces when they're around their humans. They're described as a "happy" breed and crave human companionship. The pups are good with children and seniors and despite their size, make great watchdogs.
Boxer
: WebVet gives the boxer five out of five paws for affection. This playful and energetic breed is loyal, smart and protective. They need lots of human companionship and are great with children -- but at first can be wary of strangers.
RELATED: 6 Tips To Make Your Cat Be More Affectionate
George Clooney with Einstein: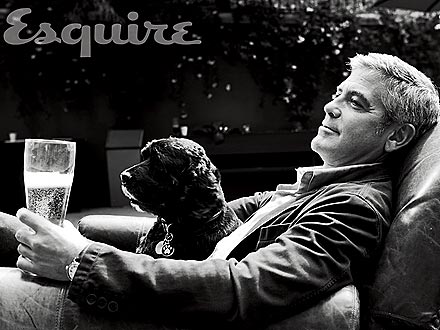 Photo credit: Esquire