POP CULTURE PETS: Winners In the Kim Kardashian Divorce? Kris Humphries' Dogs
You have to look very closely to find a winner in Kim Kardashian's divorce media blitz.
The public? Having this sham shoved in our faces for the past six months is clearly punishment for crimes committed in past lives. Kris? He's waving goodbye to his meal ticket. And Kim somehow seems more upset to be called out for her attention-seeking ways than she did when her sex tape was released.
The only winners in this whole situation? Kris Humphries' dogs. Perhaps the demise of this relationship can be traced back to when the couple moved in together -- and as we saw on their wedding special -- feuded over Kris's attachment to his pups Brody and Gizmo.
Kim mused that Kris's love for his dogs was indicative of his future paternal skills, and by those standards, showed what a generous mother she will be. When Brody and Gizmo joined the couple for their first night together, Kim shrieked, "No! They cannot sleep on my bed! Kris, they're not allowed in my bed! That's silk right there!"
Reflecting on the situation, Kris let us know right then and there that a healthy marriage wasn't in the cards for these two. He explained, "Kim wants to put my dogs in crates. Like, come on. She's used to being on her own and having things her way. This is a part of marriage. We compromise."
Clearly there was to be no compromise. Brody and Gizmo will be shooed from silk no longer, and the only crates in their future are the ones dad is packing his belongings in. For these two lucky dogs, it's bye bye Beverly Hills and hello Minnesota flannel.
In happier times: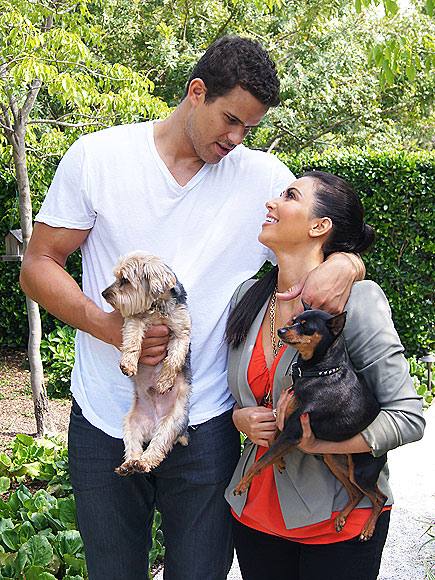 Photo from People.com