Jack the Cat Dies
Jack the cat, who gained international notoriety after he went missing at JFK Airport in August, has died.

Jack -- who was in critical condition when he was found on October 25th -- passed away on November 6th from extensive injuries sustained during his time on the lam.
"It is with tears that I must tell you that Jack has gone over the rainbow bridge. Jack had extensive wounds on the back of his body, and the wounds were unable to heal because his skin had deteriorated due to the malnutrition that occurred while he was lost."
Joanne Lynch, the media and public relations manager at BluePearl Veterinary Partners, further explained, "After pursuing every possible path for recovery, the specialists at BluePearl Veterinary Partners had to make the sad recommendation to have Jack the Cat euthanized earlier this evening. Jack had already been through so much it didn't make sense for him to suffer through more treatments that offered little or no chance of survival."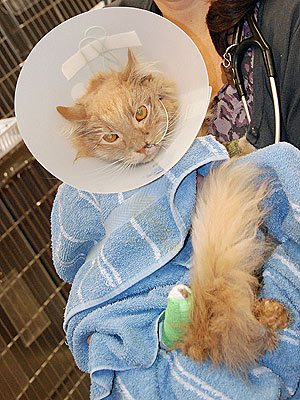 Photo Courtesy of BluePearl Veterinary Partners
Melchior went on to say that she hopes Jack's story will help other pets through air travel. She wrote, "We want people to understand the risks that attend putting an animal in cargo, and we hope to spur change in the industry so that no one else ever has to go through this again. We honor Jack, we honor all the other animals who have been killed, injured, or lost while being transported through cargo procedures, and we honor all of you who have taken the time to share your kindness and love with us."